I am so excited to be apart of Kelly's blog book tour!! Please take a minute and read Kelly's post below. She is an amazing woman of God ,Author, wife and mom. I am truly blessed God has placed her in my life!! I can't wait to purchase her book!!
Enjoy :))
**************************************************************
Have you ever had a situation arise that made you question your faith?
In different ways, Rachel and Asher (the characters in the new book CROSSING THE DEEP, Astraea Press) have that happen to them. A death she feels responsible for has rocked Rachel's world for years. She believes in God but doesn't understand why He does the things He does sometimes. When Asher was nine, an event during a camping trip makes him believe that if there is a God, He has turned His back on him.
I think these are universal feelings that we all have dealt with at one time or another. Sometimes, we may feel responsible for things that aren't our fault (as in Rachel's case). Other times, a bad thing has happened and we wonder if there is a God WHY would He let it happen to us?
Our faith is tested constantly either by hurtful words said to us, something we expected not happening, a miracle we prayed for falling short, causing something to happen that we didn't mean to do, etc. It's how we deal with those issues and who we put our trust and faith in that matters. God never said it would be easy.
An older gentleman at church got saved in his seventies. He said that he always thought when you became a Christian, it all became easier. Now, he said, he knew differently. It's never easy, but God is always there to help us through. We may not know why (Rachel and Asher can't understand why they are stuck on the mountain), but God does. Really, He's all that has to know. He can see the entire future, not just a snippet or what we 'think' will happen. His five day forecast extents into eternity. He may be protecting us from things we have no idea is even out there to get us. Hindsight is usually 20/20. When we get to the end of a particularly stressful trial, we can look back and go, "OH! That's why God did what He did."
Rachel and Asher's story deals with issues we have all faced. If you'd like to know how they deal them or maybe be able to relate to them, I ask that you read CROSSING THE DEEP. I hope the book blesses you and makes you really think about why things happen.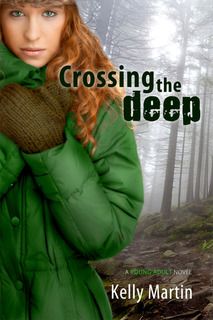 Sixteen year old Rachel Harker expects the church sponsored hiking trip in the Smoky Mountains to be short and painless. Four days later, injured and scared, Rachel prays to just make it home alive.
Asher Jenkins, fellow hiker and handsome skeptic who is only on the hike so he doesn't have to go home and face his abusive 'uncle', finds Rachel in the woods and tries to get her back to Deep Creek Trail. A small hole hidden under the fall leaves causes her ankle to twist and forces Asher to leave her to get help. As night falls, he comes back, unable to find the right trail.
As hours stretch into days, an unexpected rainstorm bears down the mountain, flooding Deep Creek and cutting off their way home. Rachel puts all of her faith in God to save them. Asher thinks believing in God is a waste of time and does what he can to prove to Rachel that He doesn't exist.
With their food gone and the temperature dropping, time is running out. Will Rachel be able to do what needs to be done to get home? And can Asher find faith when he needs it the most?
~Kelly Martin is a writer, blogger, mommy, teacher, wife, sleep deprived lady (not necessarily in that order). She writes young adult/Christian fiction. Her second book, SAINT SLOAN, is coming late winter 2013. For more information on her, please visit her blog at

http://www.kellymartinstories.com/